LG LED – Corporate Vertical
1. Where can LED be applied in the Corporate vertical?
2. What is required of an LED screen in the Corporate vertical?
Alternatives to LCD, LFD and LCD video walls
Support for larger audiences
Higher brightness and contrast to work in rooms with high ambient light
No visible seams to distract the viewer
Conventional aspect ratios and resolutions
Compatibility with existing AV infrastructure, sources and control systems
Cost effective solutions
---
Scene 1 : Video Conferencing and Meeting Rooms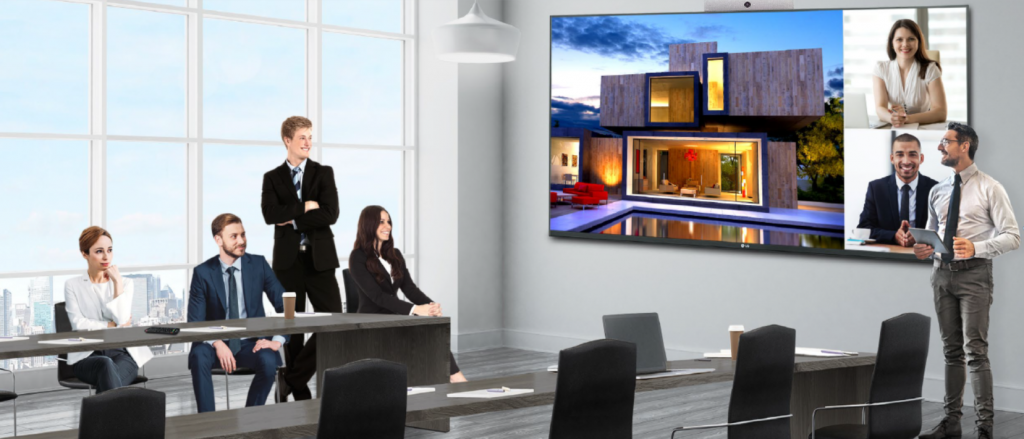 Requirements
In these spaces we are trying to create a high resolution display in as little space as possible.
Integration with VC solutions
All-in-One Solutions
Remote control from a centralized system
Recommended product – Video Conferencing and Meeting Rooms #1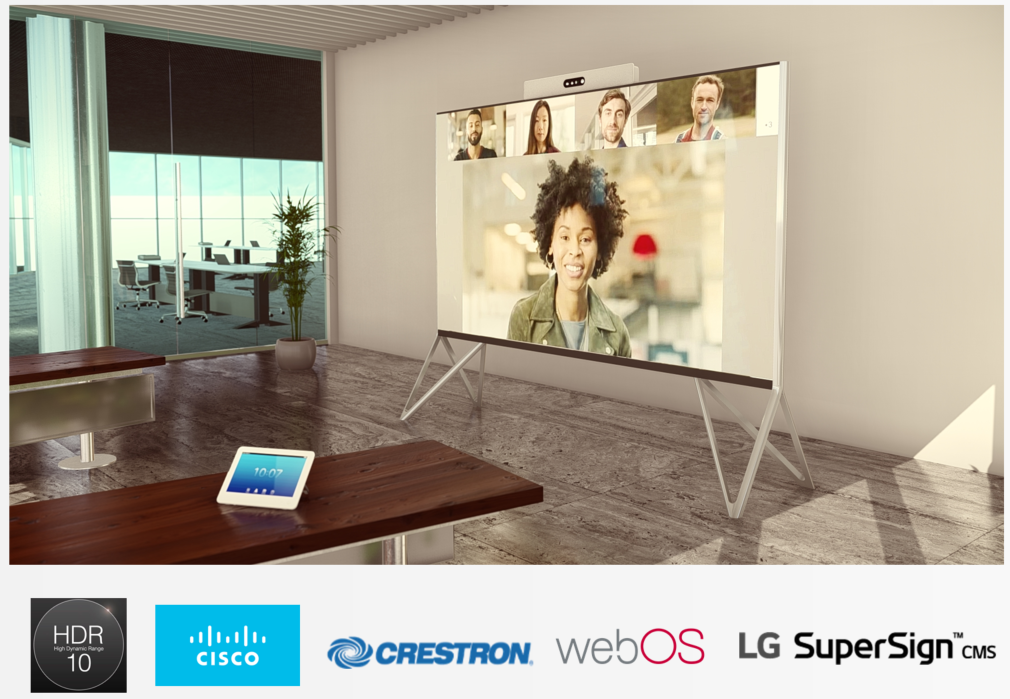 LAAF 130" All-in-One Premium Solution
Ultimate 130" FHD screen without bezel
Size : 130 inch Bezel-less screen
Pitch : 1.5mm
Resolution : 1,920 x 1,080 (FHD)
Brightness : 500nit
Contrast Ratio : 5,000:1
Refresh Rate : 3,840Hz
HDR10 supported
LG proprietary sound solution "Surface Sound"
Compatible with Crestron/Cisco VC solution
Features
When connected to a Cisco Spark VC system the screen and codec communicate.
Using HDMI- CEC control the settings of the display are adjusted to Cisco's preferences to optimize the user experience.
The CEC control allows the seamless control of both screen and codec as a single device.
Working together the AIO 130" and Spark Room kits leverage Cisco's VC technology and LG's high quality display technology to ensure the best user experience.
The fully integrated LG Surface Sound Technology brings high quality audio support to the slim display without any visible speakers.
LG work with many partners to produce a comprehensive range of mounting accessories: Wall brackets, stands and trolleys are available from Peerless-AV, B-Tech, Urbentech, SMS, Smart Metals and others.
Recommended product- Video Conferencing and Meeting Rooms #2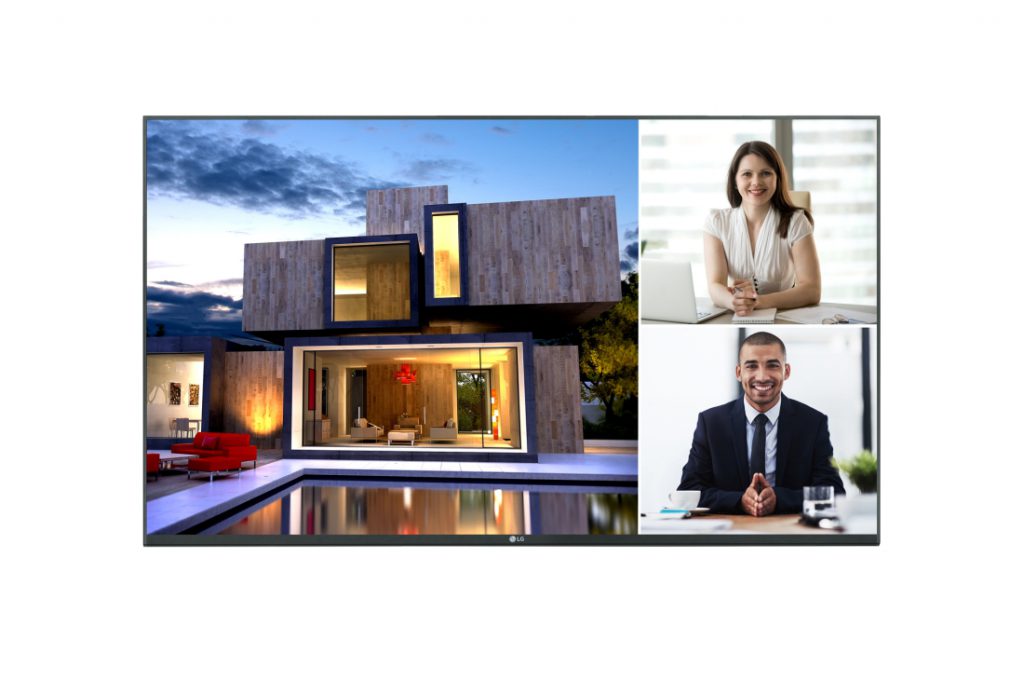 LAEB 136" All-in-One Essential Series
136" FHD screen without bezel
Size : 136 inch Bezel-less screen
Pitch : 1.56mm
Resolution : 1,920 x 1,080 (FHD)
Brightness : 800nit
Contrast Ratio : 3,000:1
Refresh Rate : 3,840Hz
Features
Fully optimized all-in-one plug and play solution
Simple three step installation in less than an hour
Simple setup with just 1 AC cable
Flexible mounting methods: Stand, Wall mount
ErP compliant standby power: Under 0.5W
EMC compliant: Class A
Extra LED protection with nano coating
All parts can be serviced from the front
---
Scene 2 : Collaboration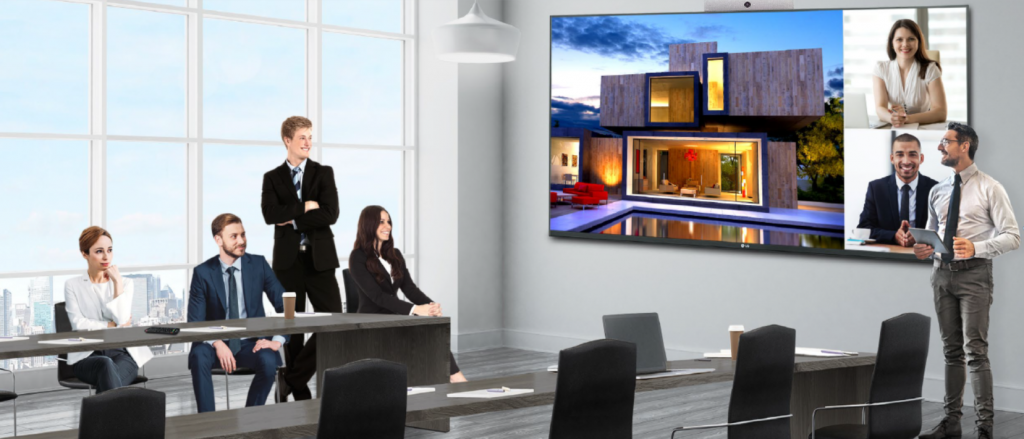 Requirements
With collaboration we have to address the needs of a team who may not be a static audience during the task.
The collaboration space is usually a mid to large space and we need to offer a low profile solution to maximize the display size in relation to the room.
We can support this by deploying larger screens. A larger screen can help to immerse the audience in the content.
Recommended product – Collaboration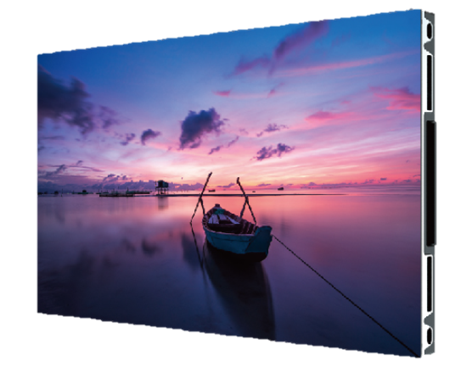 LSCB Series
Ultra Slim Depth: Edge thickness is 29.5mm
Easy Installation & Maintenance: Slim-line floating mounting brackets and front service LED modules
Easy FHD/UHD configuration: 16:9 ratio unit case, so easy to configure
EMC Class B and Fire Protection: EMC Class B and Fire Protection(BS 476 Part7:1997 Class1) certification are under processing
Features
The new LSCB range brings flexibility with a modular design and slim, light weight construction to simplify the process.
The LSCB range is our most affordable 16:9 cabinet range, the available pixel pitches make it easy to create the resolutions required and to match the screen size to the available space.
The cabinets are an ultra slim design that reduces install depth, allowing even large displays to be installed in less than the depth of a large format LCD screen.
The slim depth allows for an efficient use of space with priority going to the people rather than the display equipment.
16:9 cabinets allow the easy construction of FHD screens with exact resolutions and correct aspect ratios.
The specification now includes enhanced EMC performance, with Class B certification covering deployment into areas where EMC protection is more stringent.
The system is also rated for Fire Protection to (BS 476 Part7:1997 Class1), these rating are now starting to become mandatory with increased focus on the safety performance of electrical equipment operating in commercial buildings.
The LSCB system offers an optional 90 degree external corner feature to create seamless multi faced displays.
---
Scene 3 : Presentations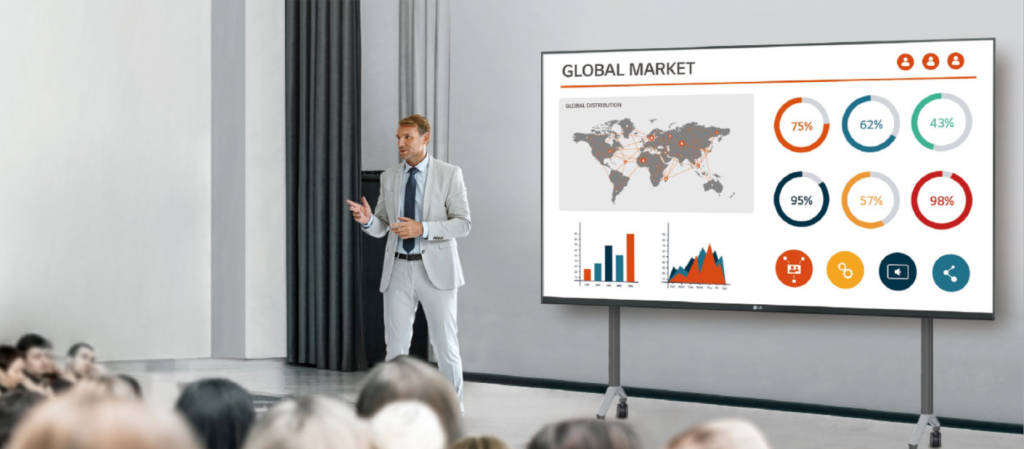 Requirements
Presentation spaces can vary from small meeting rooms up to large auditoriums.
To create larger presentation environments we need to move to a high quality modular technology.
The needs of a large auditorium can place an emphasis on quality, high availability and reliability.
Larger screens make it even more vital to have the best possible image quality.
Larger screens can show the artifacts caused by low spec processing, so we need the best colour processing and image technologies to have great images at a large scale.
Recommended product – Presentations #1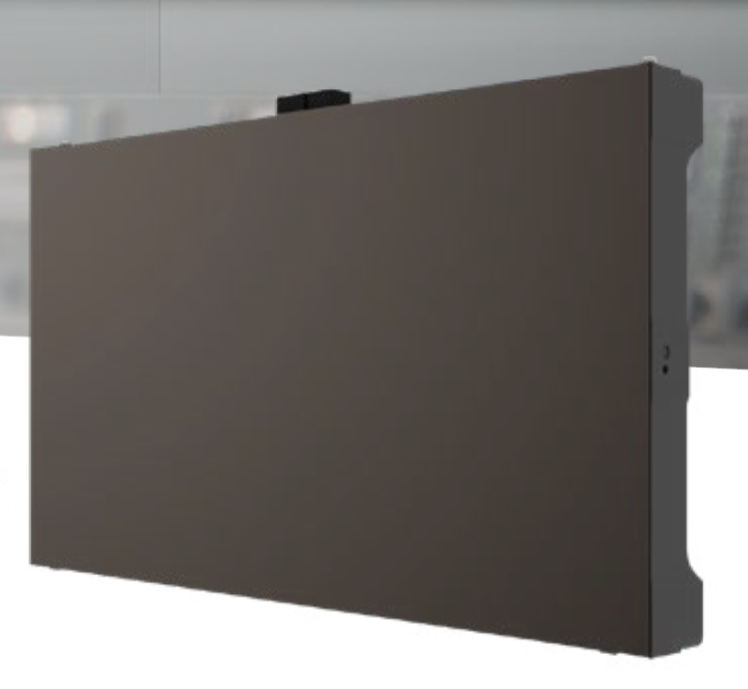 LAS Fine-pitch Series
The LAS Fine-pitch Series offers a unit case with 16:9 aspect ratio, as well as light-weight cabinet design and front serviceability for easy installation and maintenance.
Cable-less Stackable Design: Stackable unit cases and signal connector enable easy installation.
16:9 Aspect Ratio: With 1 69 aspect ratio, you can enjoy existing content without additional editing.
Easy-handling Lightweight Unit Case: Its lightweight unit cases enable easy installation and prevent damage.
Signal/Power Redundancy: The additional controller and power unit prevents a screen blackout and offers stable power. (Optional)
Front Serviceability: The product offers front access, freeing customers from needing rear access space.
Uniform Picture Quality with Accurate Colors: Our stictly managed production enables us to provide seamless content and vivid colors without distortion.
RoHS Certified Safe Product: With RoHS certified, all LG LED signage models are eco-friendly while not using harmful materials.
Features
The LAS range brings individual pixel calibration with automatic calibration management in to play, ensuring that the colour is exact and the image is clean and smooth.
The calibration functions allow the edges of each module to be adjusted, removing any unevenness.
The LAS range fully support the HD colour standards
With the logistics and organizational issues around bringing together large audiences, the customer wants to know that the risk of a dead screen has been mitigated.
The feature set of the LAS range offers both signal and power redundancy as an option. This ensures the high availability of the display, reducing the risk of the screen on working right when its needed.
The cable-less install concept allows for a low impact installation without the need for any rear space being given over to the display.
This can make the replacement of old projection systems a simple matter, this the LAS cabinets sitting on a simple frame can be installed in the aperture previously taken up by the rear projection screen.
Recommended product – Presentations #2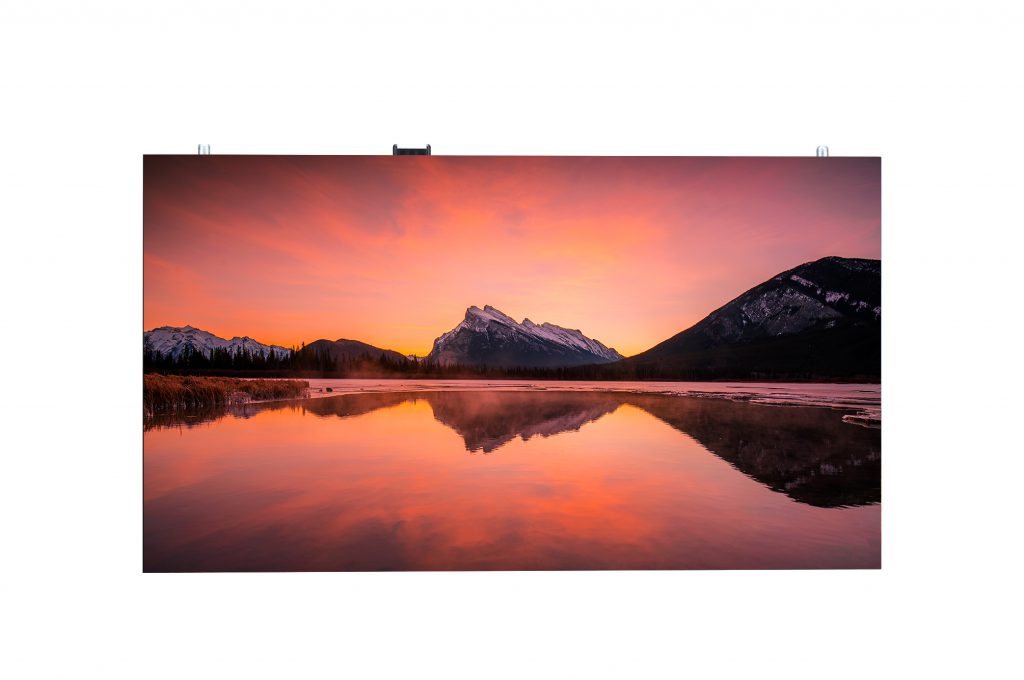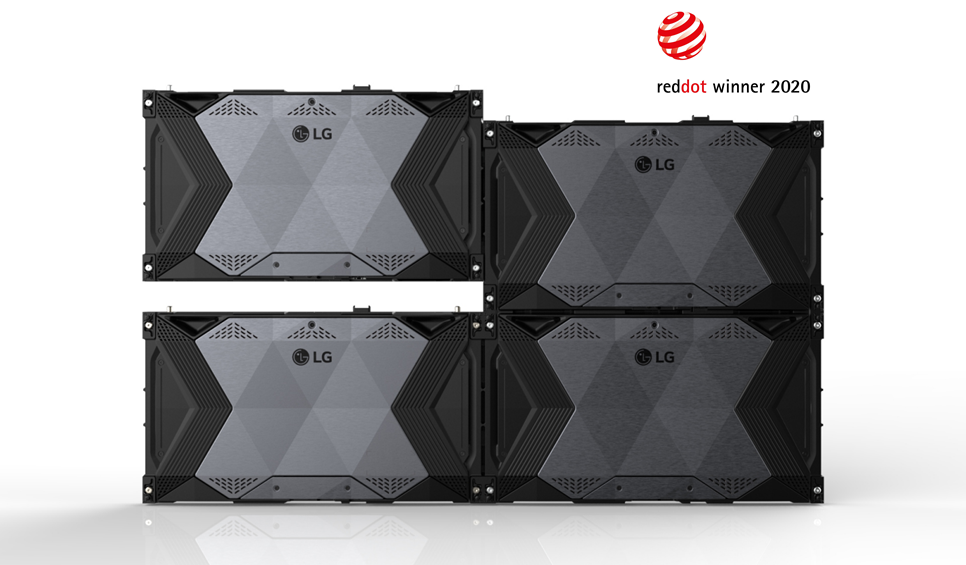 LSAA Optimum Cable-less LED Series
For up to UHD resolution with the 16:9 ratio, it does not require a cable connection between the cabinets to supply signal & power. Its block assembly design makes the LSAA series easier to be installed than ever before.The LAS Fine-pitch Series offers a unit case with 16:9 aspect ratio, as well as light-weight cabinet design and front serviceability for easy installation and maintenance.
Robust 4-in-1 LED Package: Unlike LG's conventional LED signage in which one light source constitutes one small LED package, the LSAA series has applied four light sources at once to its wider LED package. So the attached area of 4-in-1 LED package can be wider than the conventional single LED package, making the LED signage surface smoother and suitable for up-close uses
16:9 Slim Form-factor
Cable-less Connection:No need for additional signal & power cables between the cabinets resulting in easy installation and tidy finishing on the back
AI-powered Image Processor: The "Alpha 7 Intelligent Processor" applied to the LSAA series recognizes and analyzes the original content, optimizing the clarity and sharpness of the content for itself
webOS 4.1 Features: Compatible with SuperSign CMS for seamless control and content management.
Features
Signal and PSU redundancy ensures the screen remains operational even in case one single controller fails or one PSU inside the cabinet has an error.
The maintenance gets easier and faster with an optional service Signage 365 Care, a cloud service solution provided by LG service. It remotely manages status of LED displays in client workplaces for fault diagnosis and remote-control services.
Power consumption is optimized thanks to common cathode D-IC technology. This technology enables each R/G/B sub-pixel to receive the precise necessary voltage, meaning there is no wasted power and therefore power consumption is lowered.
When the screen is turned off by remote or no signal, main circuit parts insides LED cabinet goes to standby mode, which saves additional power consumption.
Crestron compatibility: The screen can be easily integrated with the control devices in the meeting room.
Cisco compatibility: With Cisco video conference devices, the screen will automatically be set up with the picture settings most suitable for those devices.
With HDR (HDR10, HDR10 Pro) support, content becomes vivid with great visual impact. The wider color spectrum and greater contrast ratio allow viewers to fully enjoy lively content.
---
Scene4 : Corporate Messaging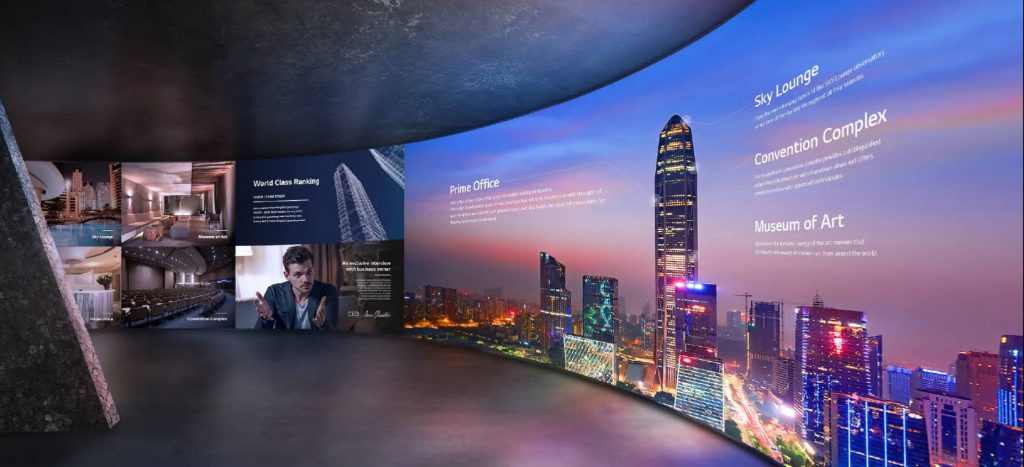 Requirements
For public spaces we need creative solutions to engage with visitors and staff.
We need to be free of the limits of conventional displays and have the ability to stretch what is possible.
Recommended Product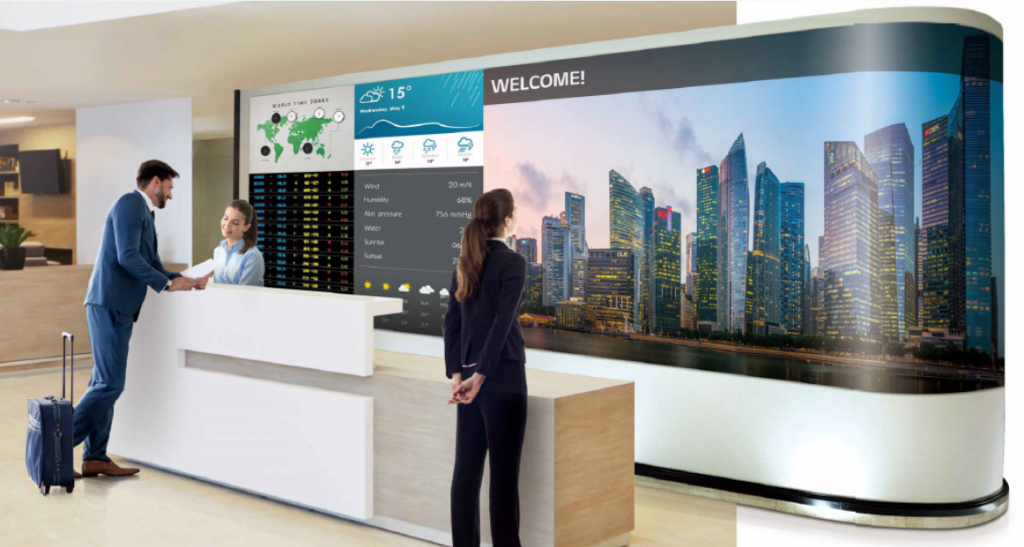 LAPE Series
Curvable modules
Superior picture quality with high refresh rates and 16 bit greyscale
Remote power supplies
Power and data redundancy
Full Supersign integration
WebOS
Convex and concave curvature up to 1000 R
Features
An ideal solution for public facing areas where we need to create interest and innovation, the LAPE series allows us to create free form curved displays.
We can mix flat, concave and convex sections to wrap around spaces, engaging with the audience.
The fully modular LAPE system offers multiple pixel pitch options with flexible modules that can curve to a radius of 1000mm.
The LAPE system is fully customizable for brightness, with options for both remote and embedded power we can adapt to maximize the use of space and to eliminate the heat generating aspect of the display when locate close to the audience.
The flexible fine pitch modules allow a truly smooth curve to be created with no facets .
The LAPE system is very light weight and can be installed in only 40mm depth.
These offer advantages for designers to be able to exploit otherwise unsuitable locations as the impact on the building and the need for heavy frameworks is reduced.
---
Scene5 : Brand Promotion
Expanding on the creative use of displays we can move on to brand promotion, where we are specifically engaging with the public.
We need to attract the attention of a moving audience and communicate effectively in a short time window.
Recommended Product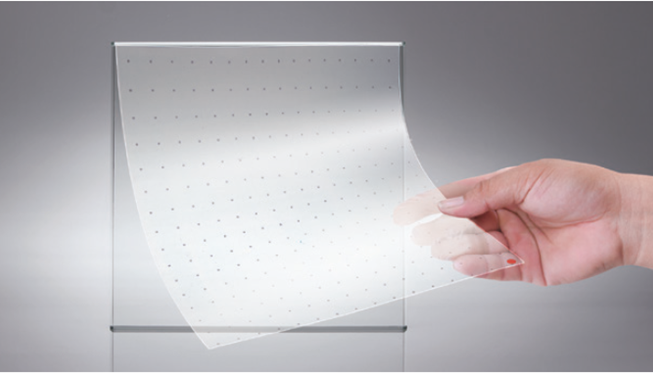 LAT Transparent LED Film
Easy Space Innovation: Easy to install, Fit to space, Low-Maintenance
Blends into the Space: Transparency like a glass
Perfect for Content display: 14mm pitch enough for near-field content representation
Other Value added Feature: No line defect, Brightness-scheduling, Signage 365, Enhanced content display options
Features
With our transparent film systems we can enhance any space by converting an internal glass surface into a display.
With 2 pixel pitches available we can give the customer options best suited to their content needs, display size and budget.
The system allows customers to bring a space to life, converting previously unusable surfaces into vibrant LED displays.
The self adhesive system requires no modification to the structure and can be cut to size, maximizing the available space
The system is fully scalable and can be removed without damaging the glass for servicing and repair.
The new 14mm option offers increased brightness which opens up the application to areas with higher ambient light level.
There products are aimed at indoor spaces and even 2100nits of brightness can be too low for street facing daytime applications.
The transparency of the system is very high, so light transmission into a space is not affected.
Reducing the pixel pitch to 14mm improves the definition of the image, allowing for more detail and a closer viewing distance.
---
---