LG OLED – Installation and setup – Wallpaper OLED
LG OLED Wallpaper Signage
This sophisticated wallpaper OLED signage achieves the best possible picture quality, concealing its presence by blending in with the wall. Minimal space is required for installation, which simplifies the construction process.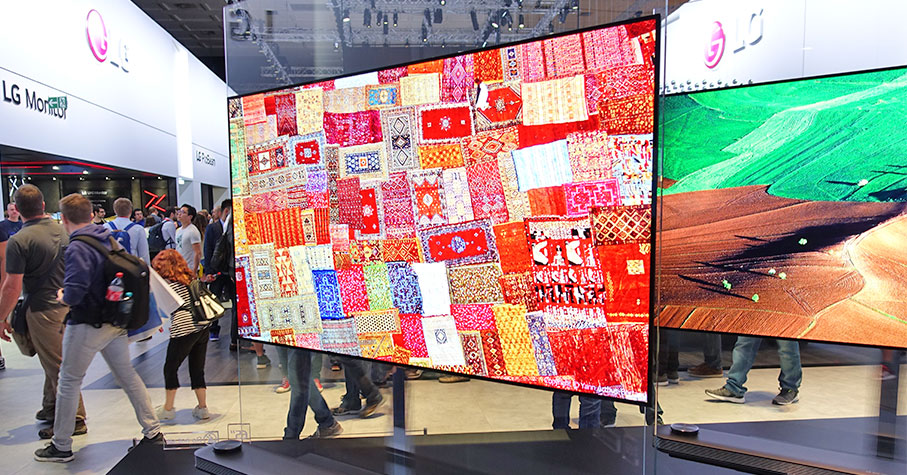 ---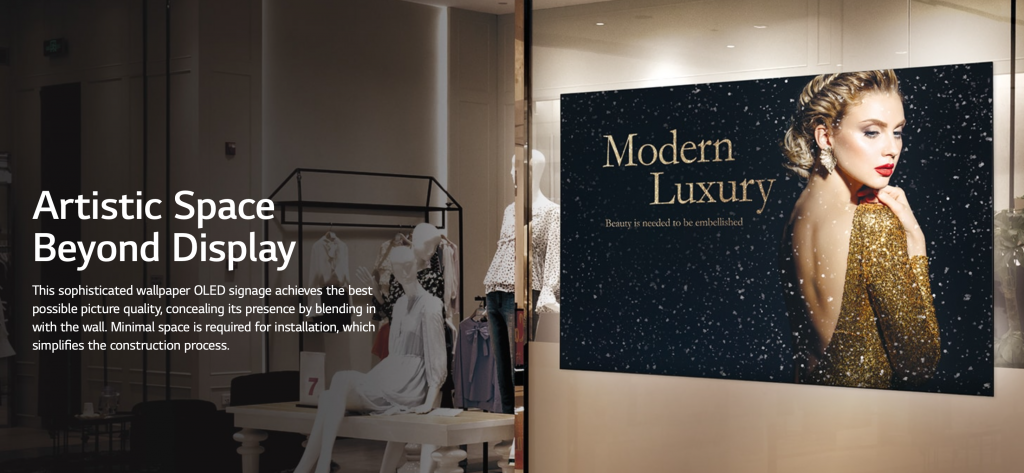 Perfect Design and easy installation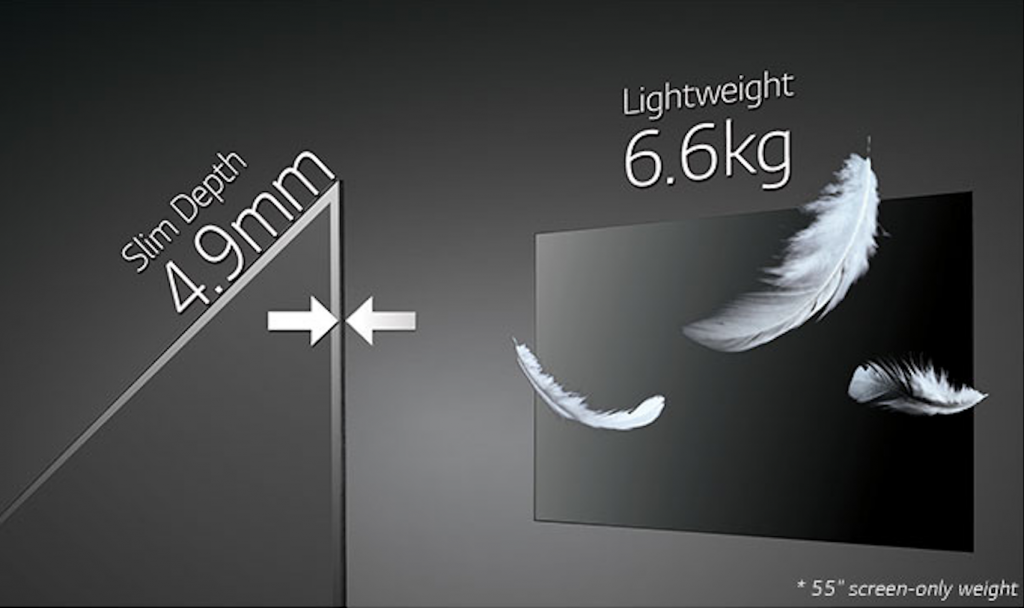 PANEL
Screen Size: 65″ and 55″
Native Resolution: 3,840 x 2,160 (UHD)
Brightness (APL25%, Typ., cd/m²): 400
Brightness (APL100%, Typ., cd/m²): 150
ACCESSORY
BasicRemote Controller, Power Cord, QSG, IR Receiver, Regulation Book, Phone to RS232C Gender, RS232 Cable (4p-4p), FFC Cables (for Connection Between Panel and Signage Box), DP Cable, LAN Cable, LC (VLC Cable), Wall Fixers, Wall Fixer Install Guide, Install Guide Sheets, Tapes (for Cabling and Dust Proof), Screws
POWER
Power Supply: 100-240V~, 50/60Hz
Power Type: Built-In Power
Power Consumption (Typ. / Max.): 440 W (8 color bar) / 478 W (8 color bar)
MEDIA PLAYER COMPATIBILITY
OPS type compatible: No
External Media Player Attachable: Yes
ENVIRONMENT CONDITIONS
Operation Temperature Range: 0°C ~ 40°C
Operation Humidity Range: 10% ~ 80%
LG's OLED technology unlocks the new worlds of design flexibility with unbelievably lightweight* and slim display. The advantages the OLED display brings are countless from the easier installation to a sleek look.
CONNECTIVITY
Input: HDMI, DP, USB 2.0 (2)OutputDP, Audio
External Control: RS232C In/out, RJ45 In/out, External IR Receiver
PHYSICAL SPECIFICATION
Bezel Width: (Off bezel) 0.9 mm (Even)
(On bezel) 8.1 mm (T), 10.7 mm (B), 8.3 mm (L/R)Dimension (W x H x D)(Head) 1,445.1 x 822.6 x 6.0 mm
(Signage Box) 782.8 x 35.5 x 239.0 mm
Weight: 13.5 kg (Set)Carton Dimensions (W x H x D)1,590 x 965 x 205 mm
Packed Weight: 23.4 kg
STANDARD(CERTIFICATION)
Safety: IEC 60950-1 / EN 60950-1 / UL 60950-1
EMC: FCC Class "A" / CE / KC
ErP / Energy Star: Yes (EU Only) / No
SOFTWARE COMPATIBILITY
Content Management Software: SuperSign CMS
Control and Monitoring Software: SuperSign Control+ / Control
---
Installation
---
You have completed this step, Let's move om.
---