LG LED – Basic knowledge about LED Signage
1. What is LED?
What does LED mean?

1. LED means Light Emitting Diode
2. LED is a two-lead semiconductor light source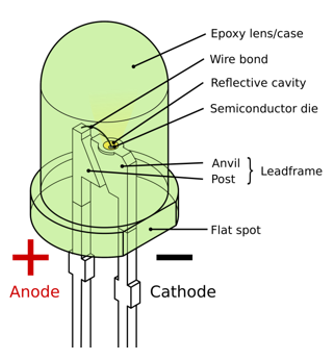 What are common types of LED?

1. Oval type RGB lamp
2. SMD(Surface Mounted Device)
3. COB (Chip on Board)
3. 4-in-1 LED Package
Oval type is common for Outdoor screens(High brightness/durability)
SMD type is becoming more widespread due to better color representation & wider vertical viewing angle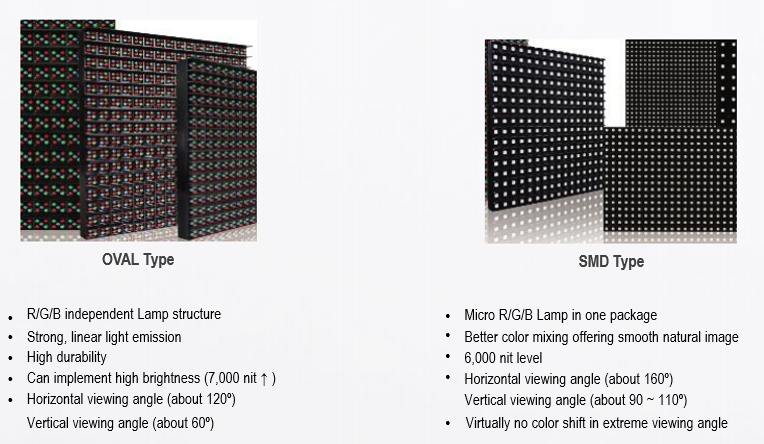 COB (Chip on Board)

In contrast with regular SMD LED where the LED chips are packaged together and then mounted on the PCB (Printed circuit Board), with COB technology the LED chips are embedded directly on the PCB , COB is the main technology behind LG Micro LED, providing the following benefits:
Perfect Black: Increases the black area to total area ratio with smaller light source (Chip) sizes
Wide Viewing Angle: Maintain brightness and color uniformity from any angle through micro LED optimization and elimination of gaps between chips with silicone coating process
Screen Protection: Protect the screen surface by applying coating and film layers on top of the Micro LED chip
Clear Surface: Smooth screen surface by applying coating and film layers on top of the Micro LED Chip
Anti-Coating: Anti-Glare, Anti-Fingerprint, Anti-Reflection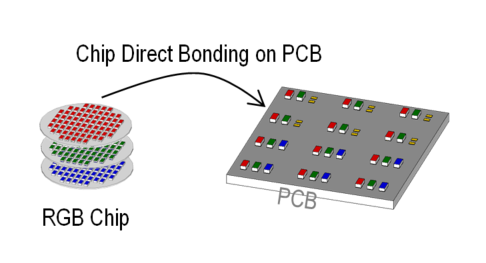 4in1 LED Package
By adopting 4-in-1 LED package where 4 pixels are combined and integrated into one single LED package, this means it is more durable than conventional LED displays even to human touch.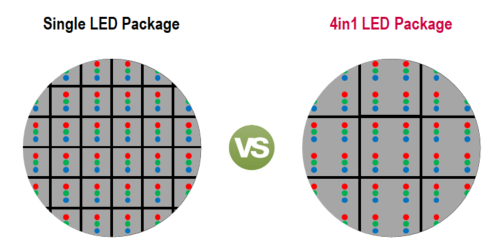 ---
2. Structure of an LED Screen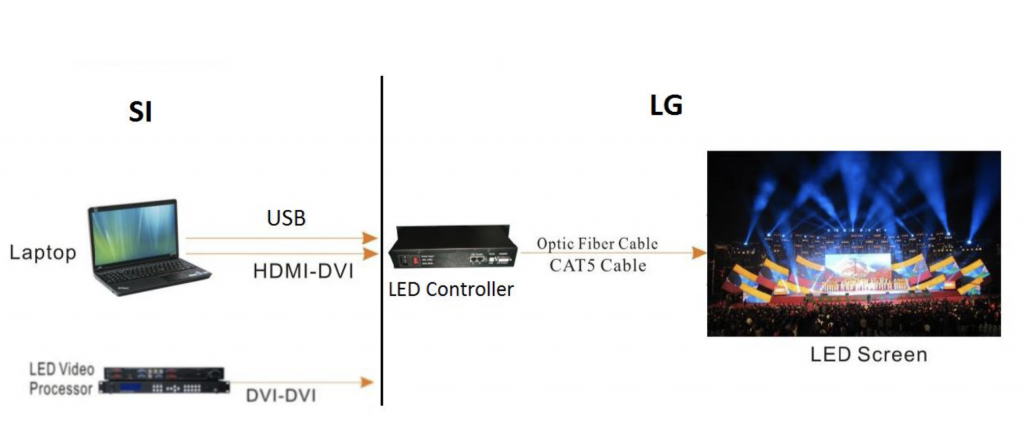 ---
3. Brightness in LED screens
LED Signage life cycle is based maintaining up to 50% brightness and playing normal video content

LED displays typical brightness (indoor) : 300~700 nits
LED displays typical brightness (outdoor) : 2000~3000 nits
LED displays typical brightness (SMD indoor) : 1000~2000 nits
LED displays typical brightness (SMD outdoor) : 5000~9000 nits
LED displays typical brightness (Oval outdoor) : 7000~10000 nits
LED display has 3 modes of brightness adjustment

Automatic : Brightness sensor detect the environment light in lux and automatically adjusts the LED display brightness accordingly

EX : Outdoor LED display can operate to 100% brightness at daytime and the value decreases while daylight is dimming
LED display can operate down to 10~15% brightness at night.

Manual : Brightness to be adjusted manually
Schedule : Brightness can be scheduled to certain levels in different times
---
4. What is Pixel Pitch
The LED signage industry uses pixel pitch as a standard measurement to indicate the resolution of LED display based on the spacing of LED pixels
The Pixel pitch of LED display is derived by measuring the distance between each pixel
Increasing the pitch is going to spread out the pixels and give you a lower resolution
A smaller pitch is going to compress the pixel spacing and result in a higher resolution

How to calculate the appropriate pixel pitch

Pixel pitch = viewing distance x 0.357

---
5. Viewing Angle
Wide Viewing Angle

If a screen is installed at a certain height, the viewers must face upwards to view the LED screen. In this case, wide vertical viewing angle is required.

Vertical Viewing Angle

SMD LED provides a greater vertical viewing angle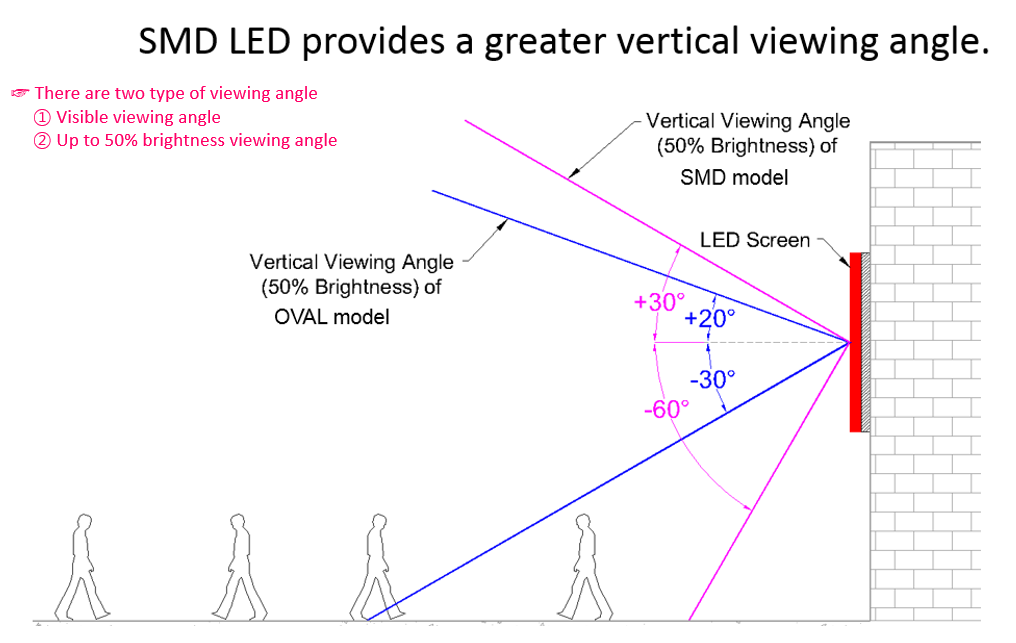 ---
6. Refresh Rate
During the game broadcasting live cameras sometimes shoot at the LED screen.
If the LED screen's refresh rate is low, the LED screen seen from TV may show lines.
To avoid lines, the LED screen refresh rate should be 2,000Hz↑
Most LG LED screens will have refresh rates higher than 3000 Hz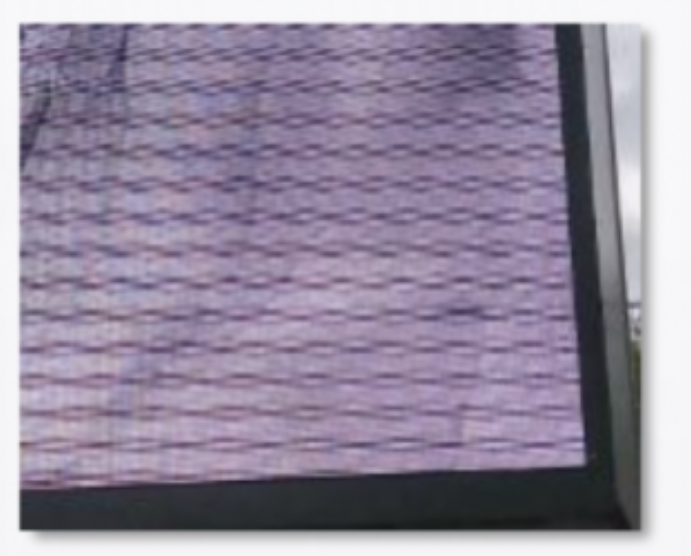 ---
7. Service Methods of LED screens
The service method type varies by specific products, installation environment and customer requirement
Front
Rear
Front and Rear (Both accessible)
Front or Rear (Select one only)
Top
Module Front and Rear/ PDU Rear
Or as described in product specs
Front SVC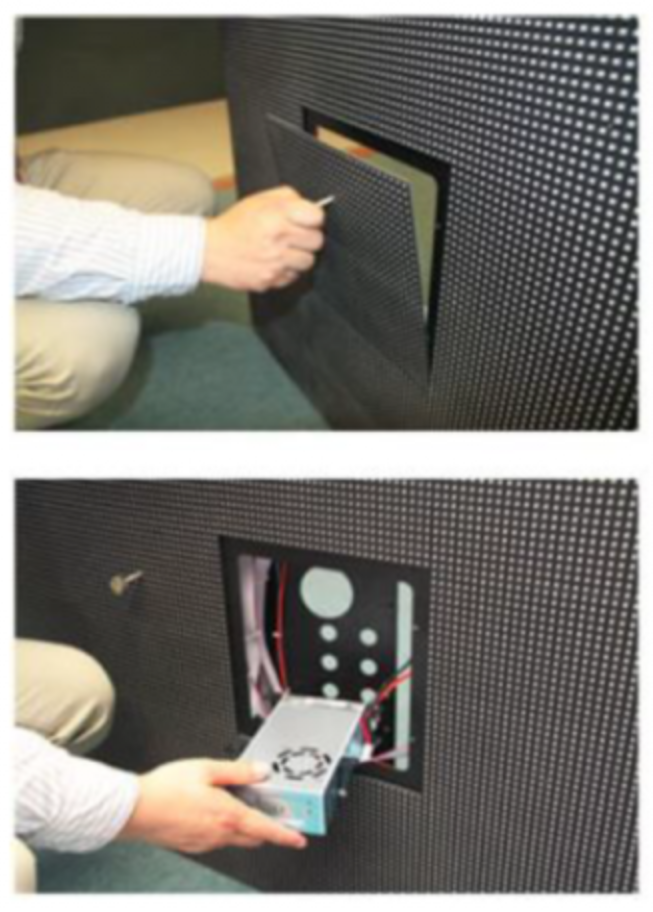 Rear SVC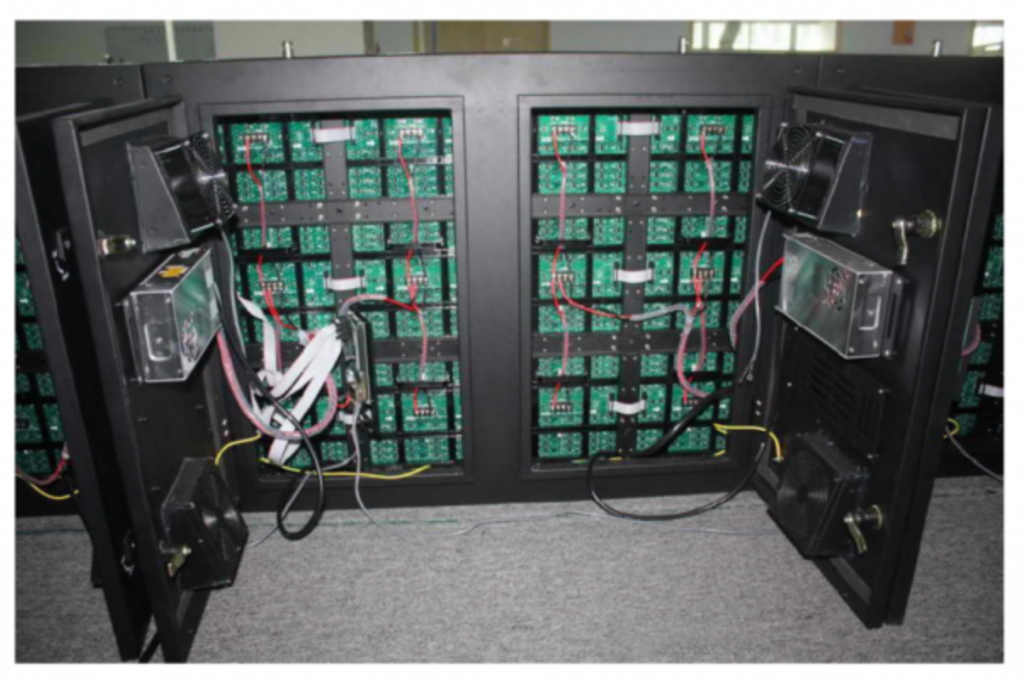 ---
8. Operation of LED screens
Dual Controller platform can avoid screen failure caused by single controller failure (bi-directional signal input to the screen)

---
9. IP Rating
The IP Code, or Ingress Protection Code, classifies and rates the degree of protection provided by mechanical casings and electrical enclosures against intrusion, dust, accidental contact, and water.
This will be a clear indicator whether an LED screen is meant for indoor or outdoor usage.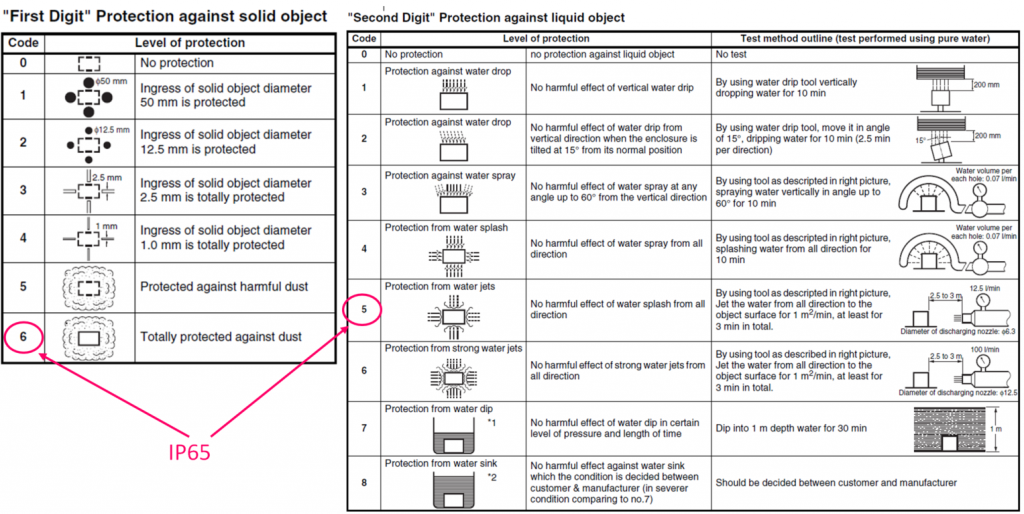 ---
10. LG Value
LG LED Signage
LG Value
---
"Our value is based on sustainable long-term partnership"
1. Comprehensive Project Management Support
Optimal Product Solution
Wide range of product selection (more than 70 standard models)
Customized models for perfect fit solution
Design Consulting
Design consulting service by LG LED experts & designers (HQ)
Dedicated Project Management
Assure successful project implementation with professional technical support until the completion of the screen's installation
Maintenance training service after the installation
Professional product delivery and local regulations management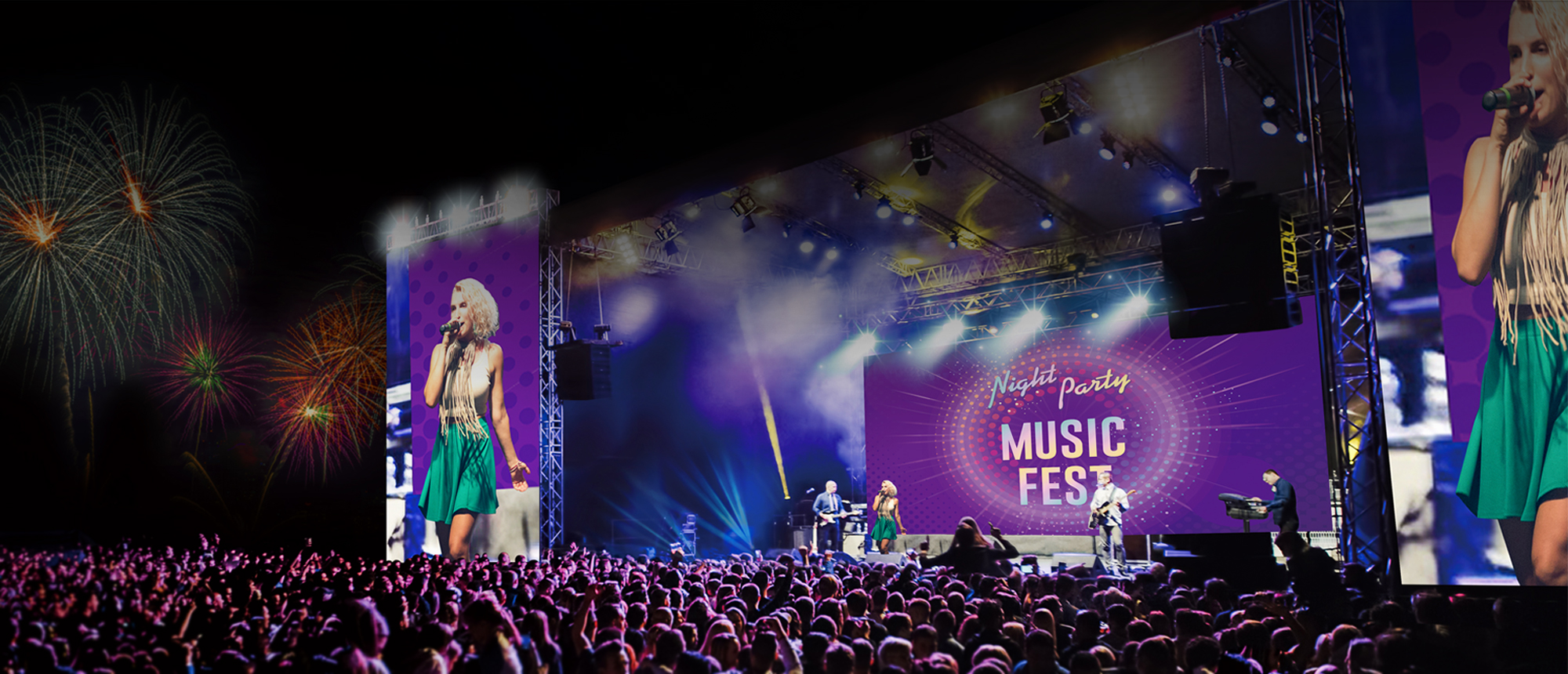 2. Reliable & Trustworthy Quality
 LGE Quality
Reliable quality management
Physical, optical, electrical & safety test with 72 hrs screen aging test before shipment
Only use 100% single batch LED package to assure utmost color / brightness uniformity
High grade LED package with gold wire for stable image quality
Factory ISO9000/14000 certified
Environmental Friendly
100% RoHS compliant certified by authorized 3rd party agency 
Certified with Global & Local Regulatory bodies
Global : CE / FCC / ETL / UL
Local : KC(Korea) / CU(Russia) / CB(Australia)


3. LG Global SVC Network
Guaranteed Business Sustainability
Stable SVC parts supply and technical support
Professional SVC management
SVC parts RMA operation is managed by dedicated local staff for fast & fluent execution
Local SVC engineer & LED technical expert ready to support you
LG 365 Care SVC (LAPE Series)
24/7 monitoring and alert service by LG Monitoring Center
(available in selected countries, optional service)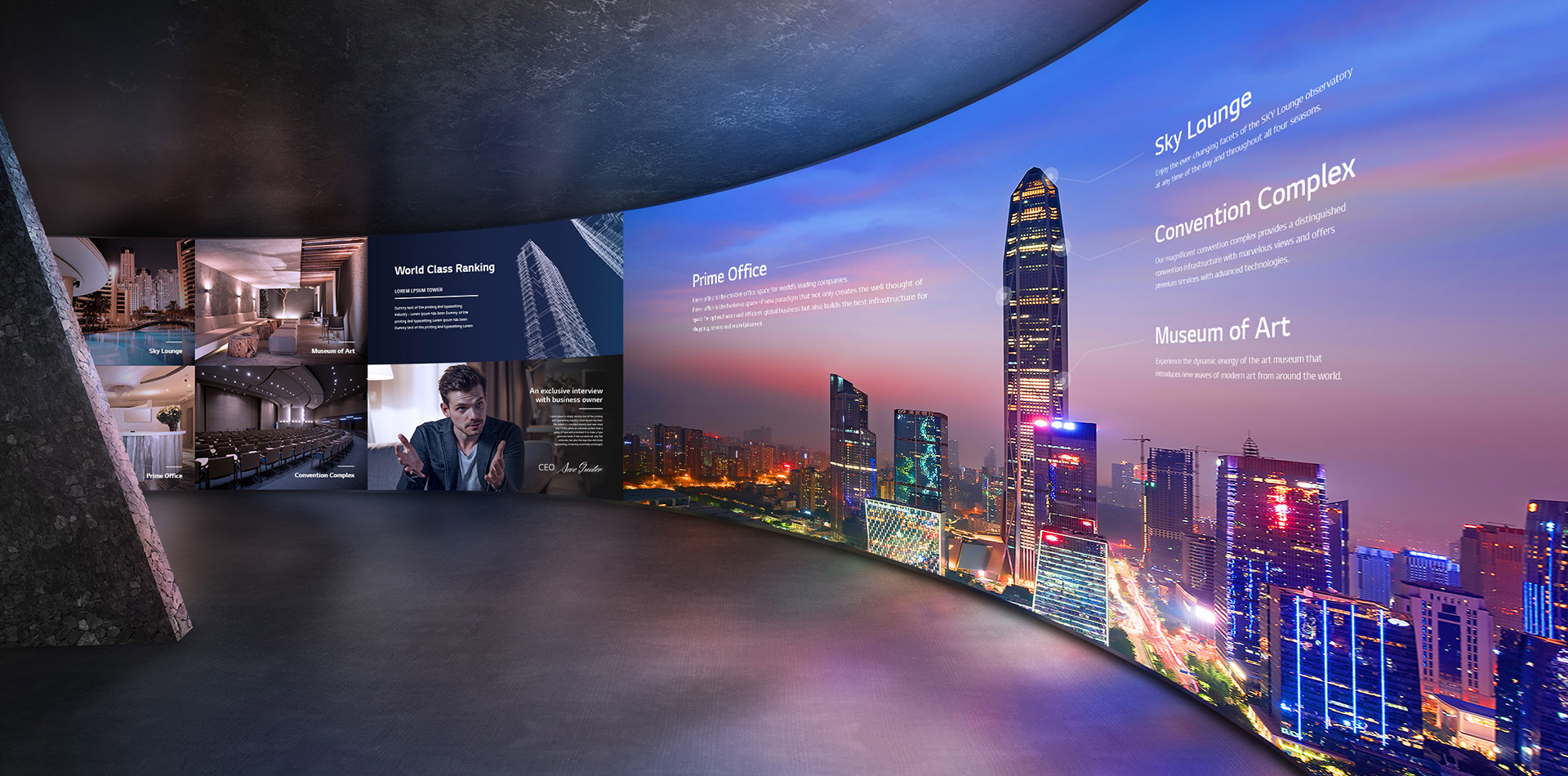 4. Total Solution Provider
Wide rage of innovative signage products from single source
LED / Transparent LED / LCD / OLED
Product / Design consulting service
Collaboration on concept planning, designing, installation to operation & maintenance
Integrated screen control via WebOS based LG SuperSign*
Power ON/OFF, brightness control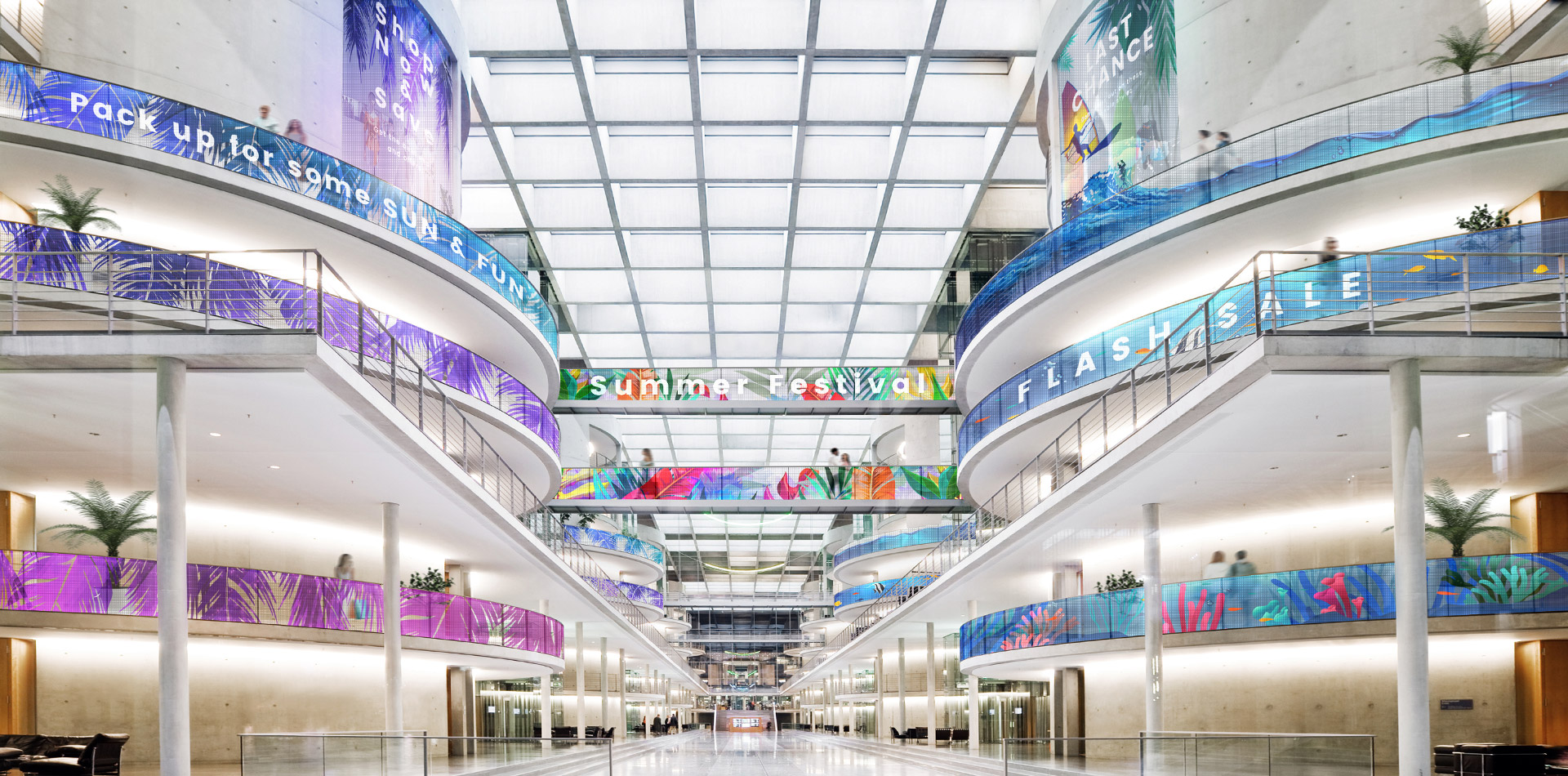 ---
You have completed Step 01, Let's move to Step 02.
---