---
Unit Cabinet
Main & Secondary Unit Cabinet

There are two types of unit cabinets, Main and Secondary one. The main unit cabinet is connected directly to the power source and data, the secondary cabinet draws the power and gets the data from the main cabinet directly through the docking mechanism without additional cabling.
| Pitch | Type | Model Code |
| --- | --- | --- |
| P0.9 | Main (Bottom) | LSAB009-M1 |
| P0.9 | Secondary (Normal) | LSAB009-S1 |
Rear of main unit cabinet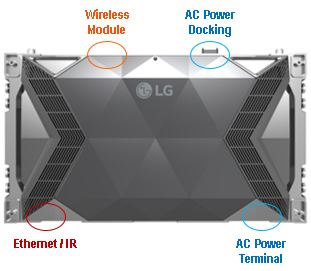 Rear of secondary unit cabinet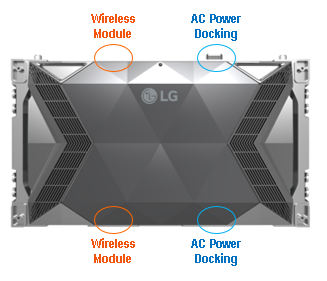 Unit Cabinet structure

LG Magnit's Unit Cabinet structure is composed of LDM Holder, Frame, and Back Cover as shown below. LDM Holder is equipped with 6 pieces of LDM and PCB board to support frame attachment and detachment by 6 magnets. The Frame protects the LDM and PCB circuits from external impact or shock when Unit Cabinet serves to mount on the Wall Mount Bracket. The Back Cover protects the PCB mounted on the LDM Holder and the circuit board mounted on the Frame.
LDM Holder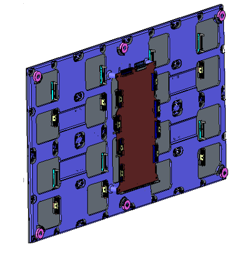 Frame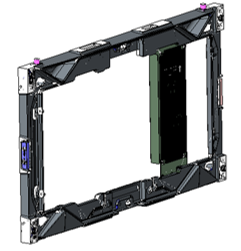 Back Cover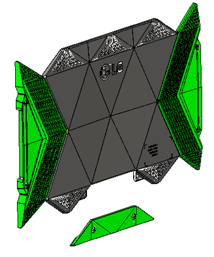 ---
LED System Controller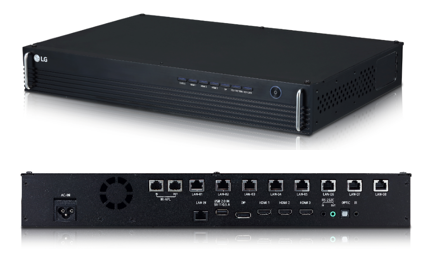 | Pixel Pitch | Model Code |
| --- | --- |
| P0.9 | CSAB-0091 |
Operating System
webOS 4.1
Input
HDMI(3), DP(1), USB(1)
Output
Ethernet(5Gx8), SPDIF(Audio, 5.1ch)
Control
IR(1), RS232C In(1)/Out(1), Ethernet(1)
Storage
16GB
Bit-depth
20 bit
Etc
External IR/Ambient Sensor,
Built-in Wi-Fi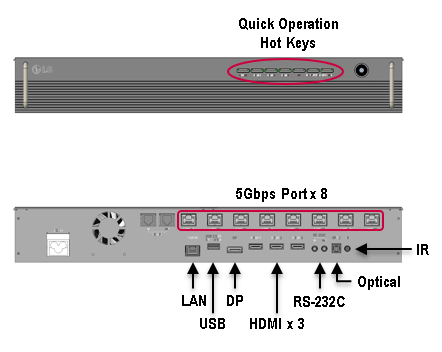 ---
Let's move to Configuration